Regular price
Sale price
$23.99
Unit price
per
Sale
Sold out
100% Safe and Eco-friendly

Designed with Independent Artists

FREE Shipping Over $60
Making Change is an educational game where players use mental math to subtract the price of an item from the amount paid to make the correct change. Whoever collects the most items wins, get one item from each of 10 categories for bonus points. Making Change helps to build practical math skills.


Skills: Helps to build practical math and money skills
Age: 5+ 
Box Dimensions: 9" x 9" x 2"
Includes: 50 Item Cards, Play paper money and coins
Illustrated by: Brandon Reese
Awards: Winner of the Oppenheim Gold Award
 Watch our video to how to play!
QUALITY GUARANTEE

+

-

We want you to be happy and satisfied with your eeBoo product . If we do not meet your expectations in either quality or design, we want to know and invite you to contact our friendly and helpful customer service department. We are committed to getting you an eeBoo or Piece and Love product that you will love. Please click here if you would like to report any concerns.
STAFF PICK

+

-

"This is such a creative and fun way to become familiarized with a basic skill. The pieces are all well made and the illustrations are bright and unique and it's a different game play every time, making it extra enjoyable!" - Amber, Digital and Marketing Designer
View full details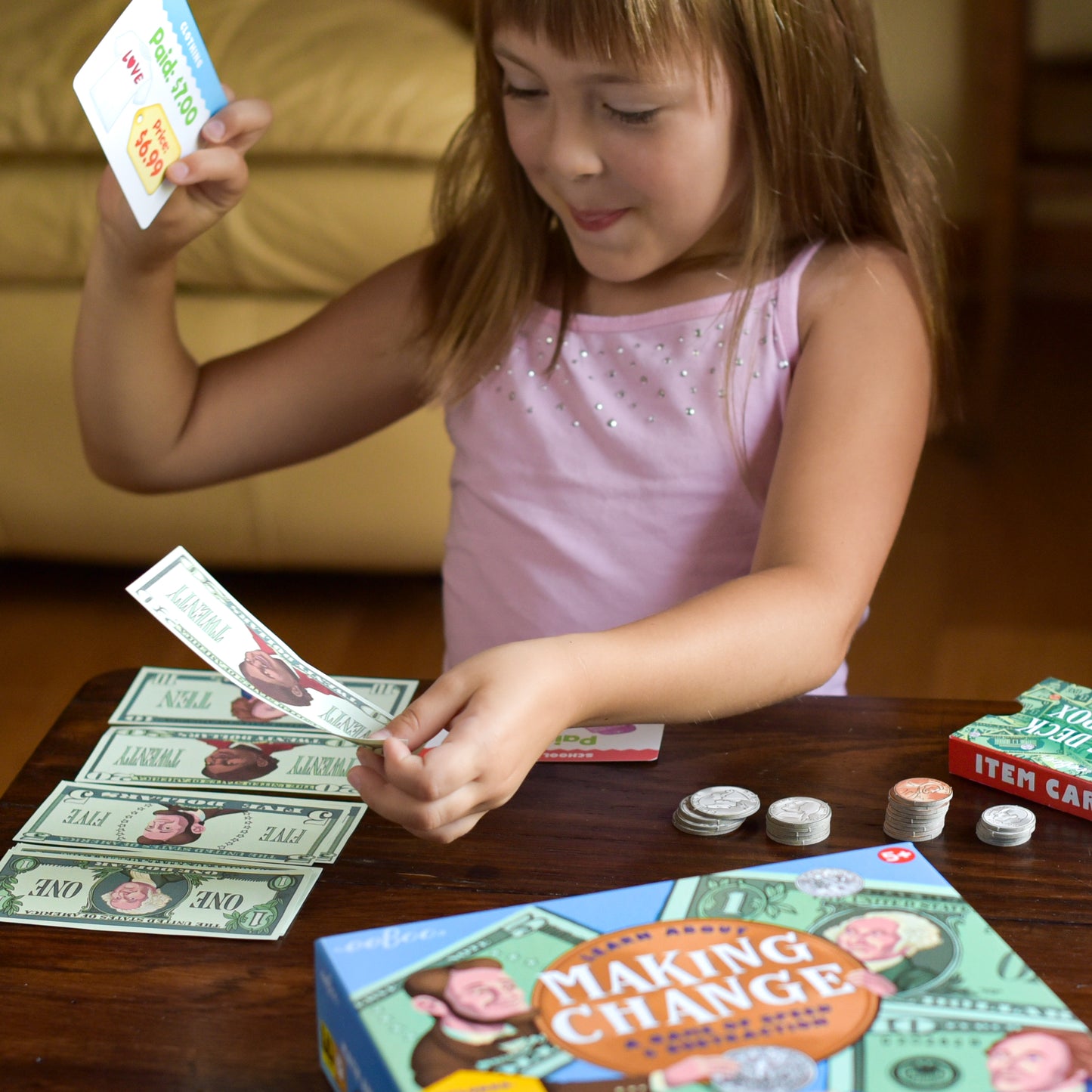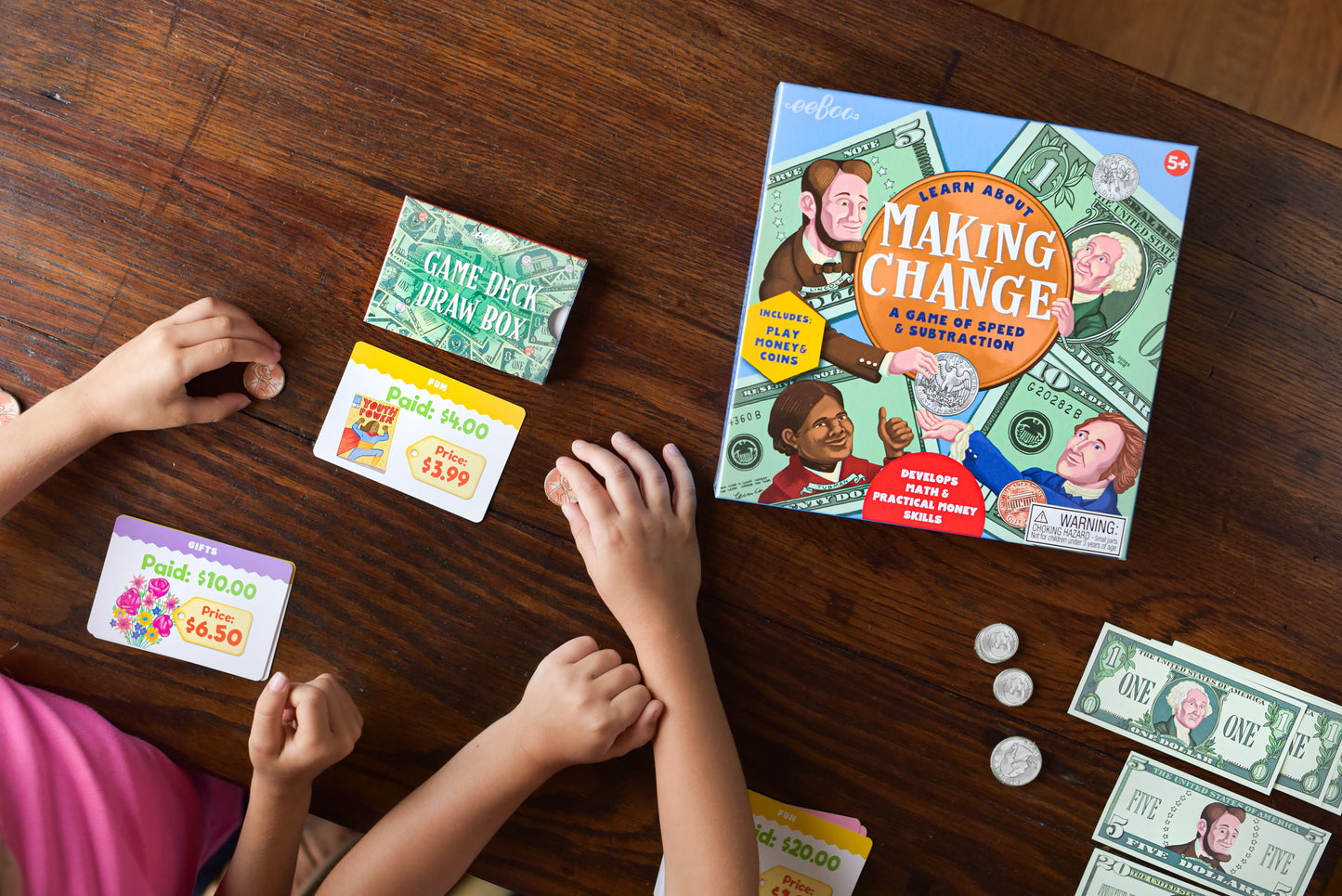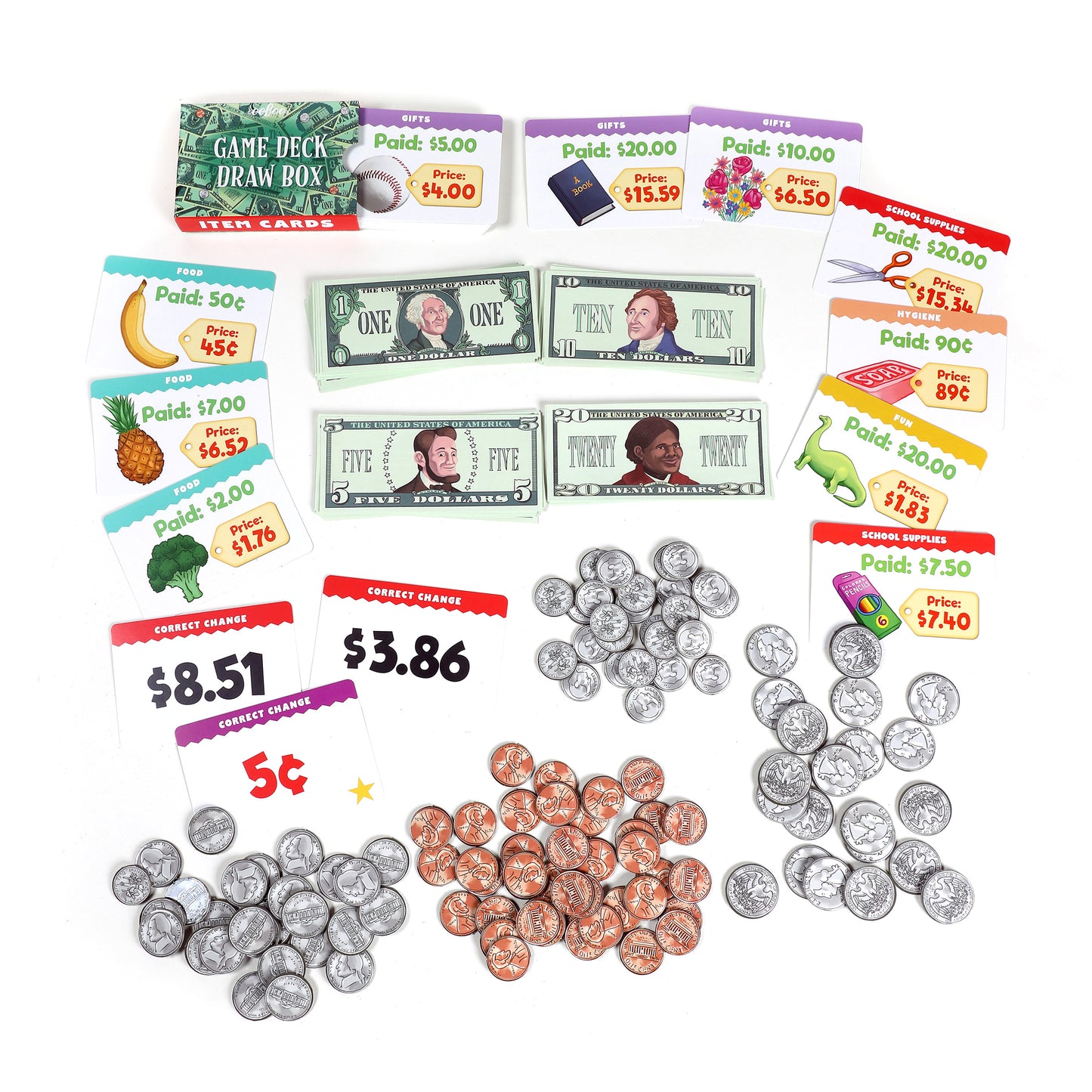 CUSTOMER REVIEWS
Love
I can't believe Harriet Tubman is in the $20 bill. Not only that but the coins and cash are FAKE too! This is very wrong, a shame.
Just joking! Love this set. Super cute and the cards are helpful to practice making change with my kiddo. Also I appreciate that Harriet Tubman is on the $20.— hopefully one day it will become a reality. Representation matters :)
An intro to money and change
Our 6-year old daughter got to play this game with us and one concept she will need to practice dealing with adding and subtracting in the 10ths and 100ths columns. A good game overall.
Tubman or Jackson
Putting Harriet Tubman on the $20 is an Excellent opportunity to explain to children the reasons Andrew Jackson and other notable men are having their legacies reassessed, and the reasons the trump administration resisted these efforts.
Incorrect depiction on $20
Why did you replace Andrew Jackson on the $20 bill? How confusing for my daughter to have Harriet Tubman on it when she will never see money in circulation depicting this. To manufacture the game assuming this change is very wrong. A shame.
Thank you for your inquiry. An answer to your question is found on the inside box cover next to the instructions.

In 2016, US Treasury Secretary Jack Lew announced that Harriet Tubman would replace Andrew Jackson on the Twenty dollar bill, and the new bills were slated to enter circulation around 2020. The change was motivated by public discomfort with Jackson's signing of the Indian Removal Act, which led to widespread death and illness among Native Americans, as well as Jackson's opposition to abolitionism and his active support of slavery.

eeBoo created this activity just after Lew's announcement was made. The Tubman bills were sidelined by the Trump administration, but may well be released during the new administration.

Thanks for your interest.