Regular price
Sale price
$23.99
Unit price
per
Sale
Sold out
100% Safe and Eco-friendly

Designed with Independent Artists

FREE Shipping Over $60
Spend time getting to know some of the landmarks and colorful neighborhoods of Denmark's friendly capital in this homage to wonderful Copenhagen by Jennifer Orkin Lewis. Our 1,000-piece jigsaw puzzles are thoughtfully commissioned and beautifully designed to offer a screen-free, relaxing way to practice contemplative mindfulness or share a gentle cooperative activity with friends and family. 
Full color insert
Puzzle: 23" x 23" inches finished
Box: 11" x 11" x 2"
Glossy, sturdy pieces and minimal puzzle dust
Made with Recycled Materials, Vegetable Based Inks, and

 

FSC®-certified paper
QUALITY GUARANTEE

+

-

We want you to be happy and satisfied with your eeBoo product . If we do not meet your expectations in either quality or design, we want to know and invite you to contact our friendly and helpful customer service department. We are committed to getting you an eeBoo or Piece and Love product that you will love. Please click here if you would like to report any concerns.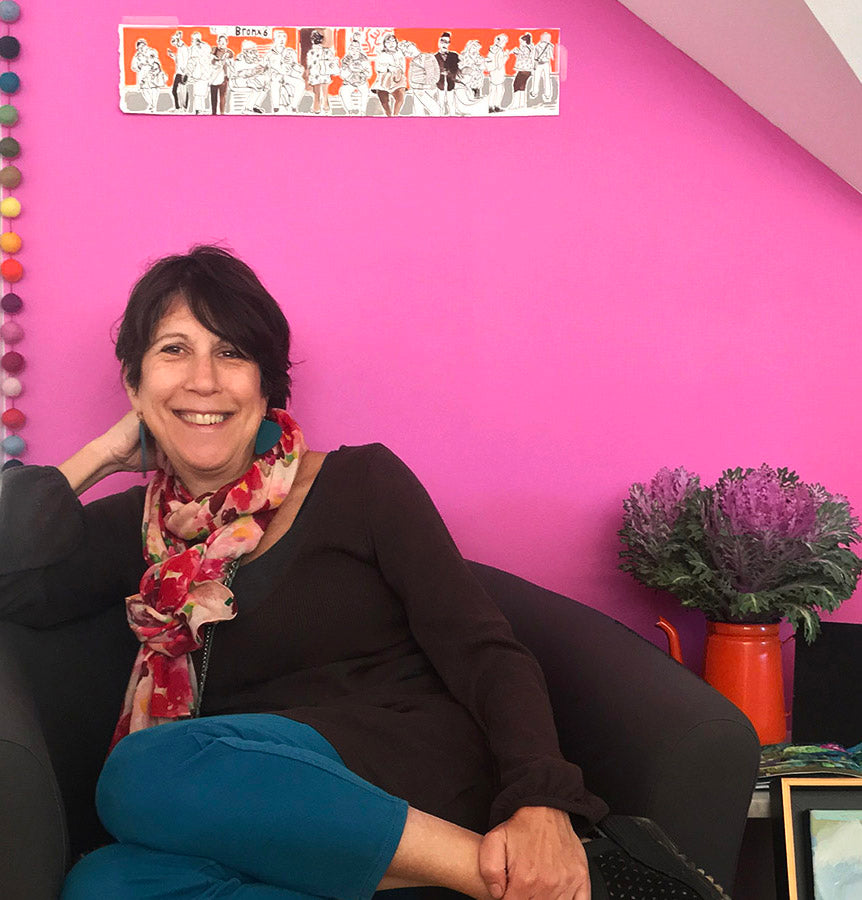 Listen to the Artist's Playlist
Each of our artists shares a curated playlist for you to puzzle along to.
View full details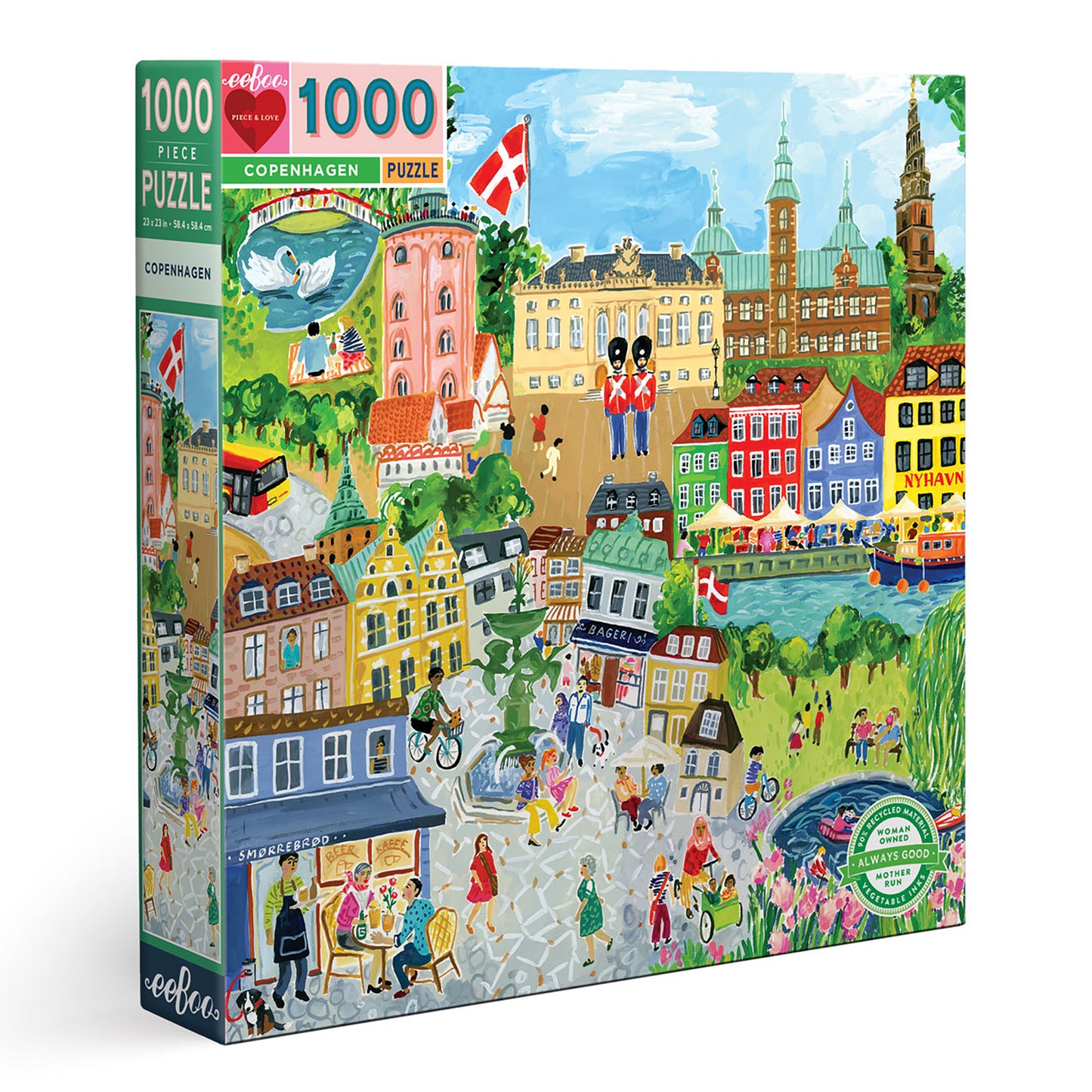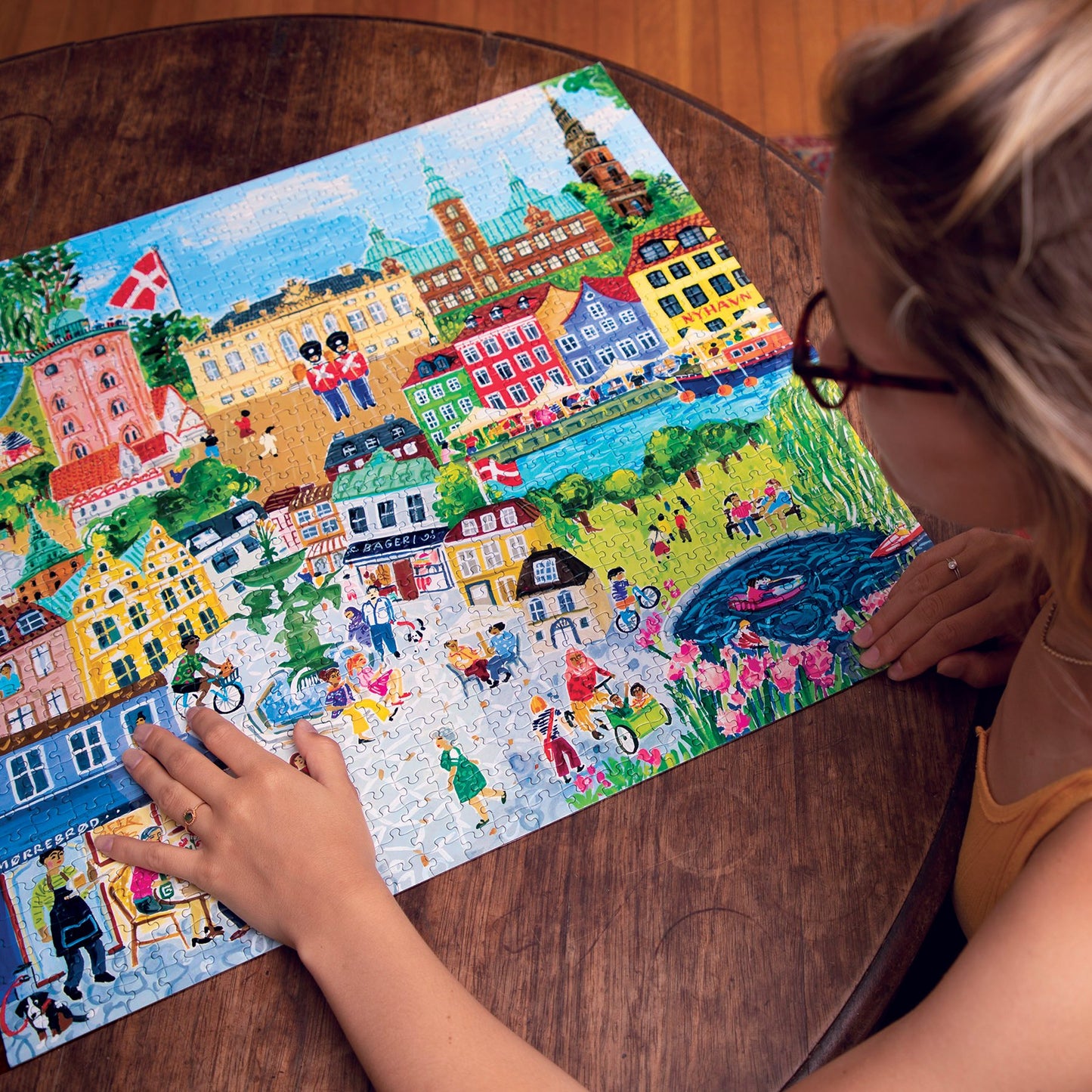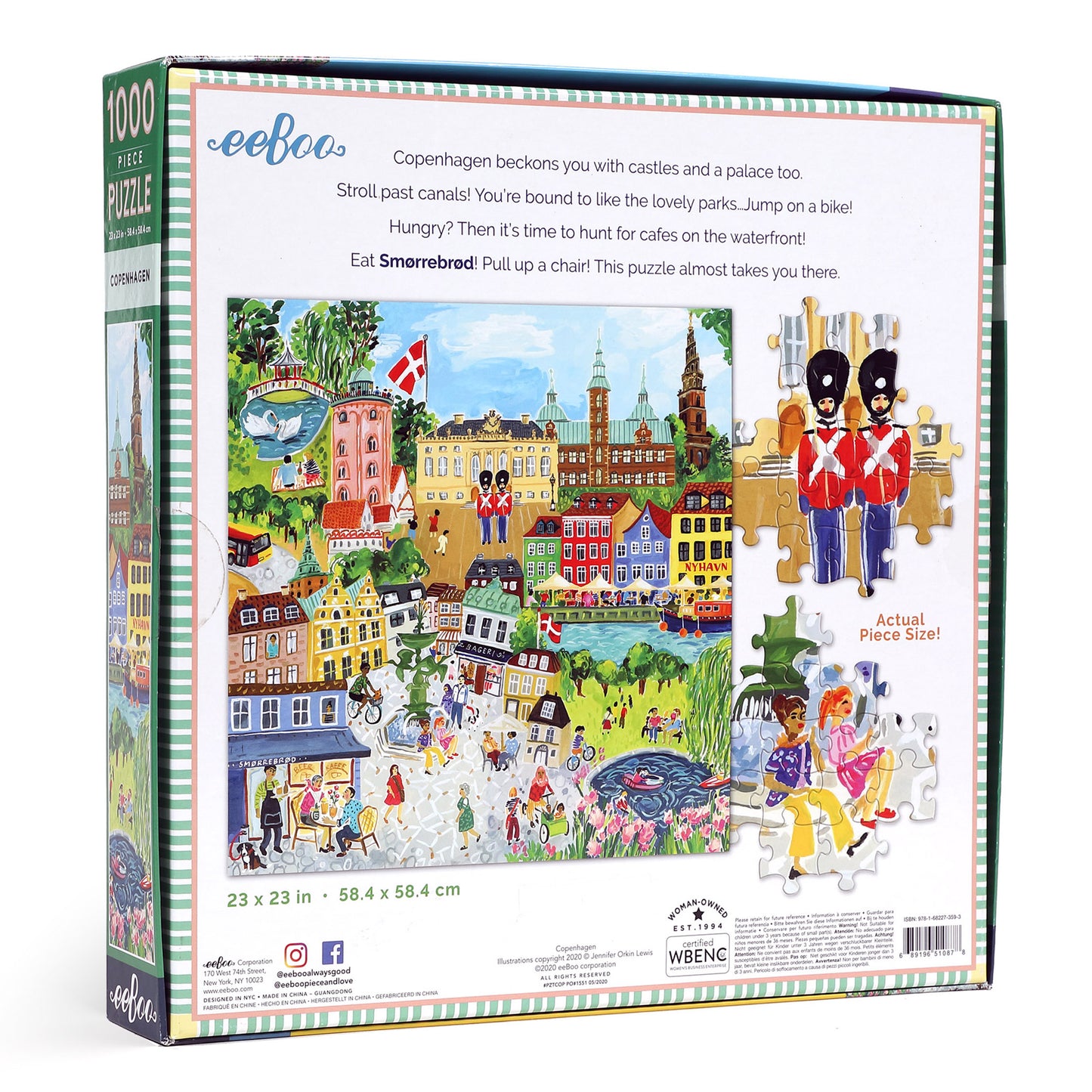 CUSTOMER REVIEWS
Very poor quality of puzzle
My daughter bought a puzzle for me for Mother's Day. The pieces were defective and splitting apart right from the start. She wrote to you and sent pictures. Your solution was to resend the exact same puzzle instead of refunding her $$. She was excited to support a woman-only environmentally conscious business. You are a small business and you need to make positive customer relations rather than create a bad reputation. One of my puzzle buddies saw the pieces coming apart on my completed puzzle yesterday. I know that my friend will not buy from you. You are actually sending me a duplicate puzzle of what I have just done. Customer service- poor. You need to stand by your product!
Dear PK,
We are so sorry to hear you received a damaged puzzle. We take quality concerns very seriously and we have pretty rigorous quality control procedures in place but occasionally a bad puzzle gets past us. We track all damaged puzzles so we can provide detailed feedback to our production team. Out of all the puzzles we make far less than 1% are damaged. Since we want to meet all of our customers needs we offer to send a totally new puzzle on us and you can request the same puzzle or a different style, I am sorry if that wasn't clear when requesting the replacement. If you could send us an email with your phone number or email, of you or your daughter, we can make sure to get a new puzzle of your choosing to your doorstep! We promise to get you a puzzle you'll love! We always stand by our product and we have a really kind, dedicated team of customer service people here ready to help resolve any problem. I am really sorry if this was not your experience. Please be in touch so we can make you a happy puzzler! The best email to reach out to is website@eeboo.com and I will personally keep an eye out for your email with contact information.
Best Regards,
Emily Levitt
the best yet
My husband and I got into puzzles because of the pandemic, and it has turned out to be one of our favorite pastimes. We have purchased several puzzles, and my daughter has sent several more. Copenhagen is the best yet. It's challenging, but not frustrating. And it is fun! I also love that Eebo is owned and run by women, and they use 90% recycled materials.
Lindo
Muy lindo y bueno para hacer
Fun Puzzle!
My husband and I really enjoyed this puzzle. We were able to complete it in just a few weekday evenings and part of a Sunday. It was challenging enough, but not frustrating. The quality of all Eeboo puzzles is excellent!
About the artist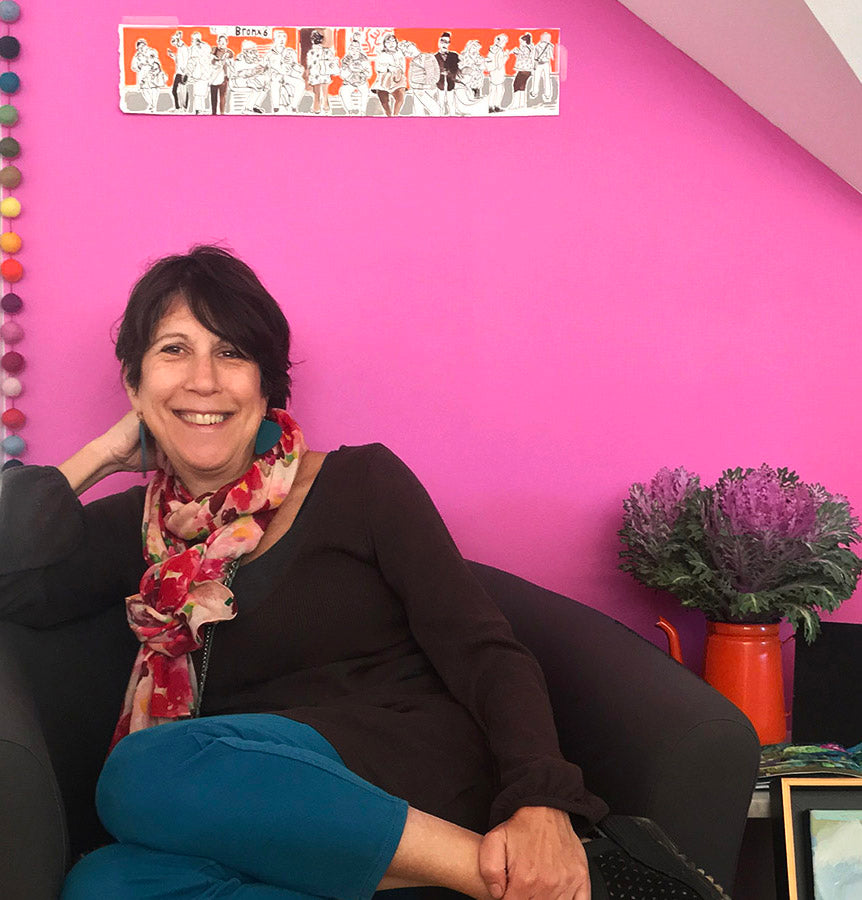 About the artist
Jennifer Orkin Lewis (@augustwren) is inspired by small, everyday things. She keeps a daily sketchbook, which she often shares on Instagram, allowing her to stay fresh and experiment.  Jennifer says it takes years to develop your style, so practice as much as you can! 

View all products illustrated by Jennifer Orkin Lewis